A BRIGHT PROSPECT...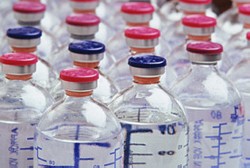 Our Experience
With over 20 years of experience, Maetriq has become a solid partner for Pharmaceutical R&D organizations in optimizing their Project Management efficiency. We focus on the analysis and optimization of existing Project Management models and tools to make project information transparent. This will give R&D management efficient tools to set project and portfolio priorities and make purposeful and efficient strategic choices. A bright prospect...

Why Meatriq?
At Maetriq, we are fascinated by the dynamics of pharmaceutical R&D and the challenges of the R&D Project Management matrix. We firmly believe that transparency and efficiency of R&D Project Management is crucial to the success of R&D driven companies.

We have unique expertise in developing and implementing integrated Project Management models in R&D organizations, particularly in the design and implementation of matrix-integrated Project Management models, Project Risk Management, and Process Optimization. We have developed a unique quantitative risk analysis method to manage project risks. Therefore, we provide specific solutions to optimize your Project Management model and to perform change management trajectories to gain optimal control of processes, resources, quality, and ultimately the project portfolio.

Our Services
Maetriq provides a variety of Project Management services. For a complete overview, please visit the "Services" page.